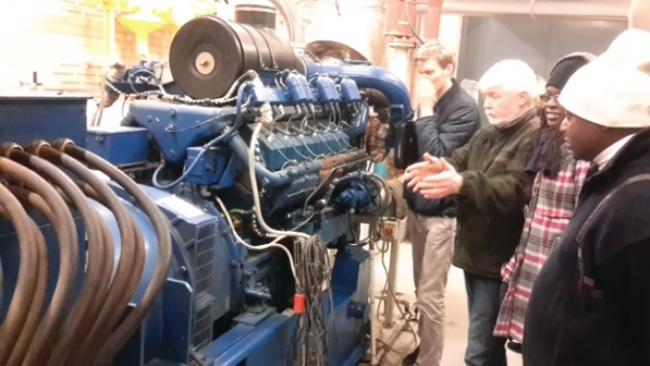 Ghana is struggling to replicate an age-old technology that has come into fashion to power domestic households in the midst of an unstable energy supply.
Faecal matter from pigs and cow dung which for many in Ghana represents public nuisance is seen elsewhere as a precious commodity that is used to produce biogas to power light in homes and for other industrial use.
After a failed attempt in 2002 to pilot a biogas project to power a growing domestic consumption at Apollonia in the Greater Accra Region, about 35 minutes' drive from the main capital Accra, the country is mimicking other states in the drive for low carbon consensus.
Biogas is a fuel produced during the anaerobic digestion of agricultural and animal waste. The biogas waste is stored in specially constructed containers, known as a biodigester or biogas plant. Besides producing fuel, biogas digesters have the added benefit of producing a high-nutrient fertiliser and encourages better sanitation on farms.
Last year, Ghana signed a 1.3 million euro agreement with the United Nations Industrial and Development Organisation (UNIDO) to support green industrial revolution through the promotion of biogas technology and business for sustainable growth.
But this is an unlikely source of Ghana's future energy as wastewater treatment plant and sewage is turned into energy in the form of biogas. Plant engineers say electricity price hikes in Ghana may push households to adopt other methods of generating their own power.
Today, industrial wastewater purification and treatment of agricultural wastes biogas technology has reached maturity and is enjoying an upswing in developed countries such as Denmark and other countries in America are currently experiencing a boom in municipal treatment of waste using anaerobic digestion.
The example of a Danish farmer
For 59-year-old Danish, Erik Broholm Andersen, faecal matter from pigs is a precious commodity that powers his farm and sustains his livelihood by buying tones of pigs faecal matter in Aalborg to generate renewable energy.
Owner of Boel farms, which is about 45 minutes' drive west from the Danish city of Aalborg is keen to replicate his business model to Africa, where energy sources are dwindling in the midst of rising demand.
With 20,000 pigs on his farmland, he is able to generate about 800cm of faeces which can produce several kilowatt of biogas that can produce approximately 5000 kilowatt of renewable energy.
"I collect the faeces from the pigs, which is rich in methane and fish waste to produce yeast, which is what powers this farm", pointing to his 200 acre farm.
Biomass has become an increasingly important energy source in Denmark over the last 25 years. Being a carbon neutral energy source, it has already helped make a significant contribution to the reduction of Danish carbon emissions.
The conversion of more biomass at power stations is expected to help Denmark reach its target of 30 per cent renewable energy by 2020.
Today, biomass accounts for approximately 12 per cent of world energy consumption.
According to the International Energy Agency, bioenergy (biogas and biomass) have the potential to meet more than a quarter of world demand for transportation fuels by 2050.
Yet the potential of using biogas has so far been unexploited, especially in the form of livestock manure in the agriculture system.
Denmark is well-known for its farming industry; approximately 65 per cent of the land is used for agriculture, emitting 18 per cent of all greenhouse gases through methane and nitrogen.