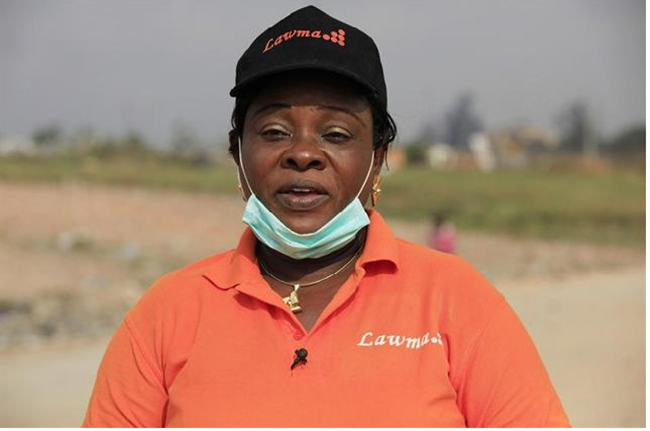 LAGOS, Nigeria - At Lagos' largest dump, dozens of men gather to sort iron, plastic and nylon atop a 20-foot wall of garbage where hundreds of white herons compete to eat the spoils.

Lagos is engulfed in waste. With a population of more than 20 million, the city has garbage that piles up on streets, outside homes and along the waterways and lagoons, creating eyesores and putrid smells. The booming city also has major electricity shortages and many residents rely on diesel generators that cloud the air with black exhaust.

Lagos is turning these problems into an advantage by starting a program to convert waste into methane gas to generate electricity. A pilot program at a local market has already shown success on a small scale. Lagos' waste management program is also organizing recycling to clean up the biggest city in Nigeria, Africa's most populous country of about 170 million people.

The project to harness waste to create power has begun at the 42-hectare (104 acre) Olusosun dump where pipes are stuck vertically into the ground to gather methane gas.

"Those will eventually fire boilers that create electricity," said Abimbola Jijoho-Ogun, general manager of administration for Lagos State Waste Management Authority as she pointed to the pipelines in about a quarter of the site.

Olusosun receives about 40 per cent of the city's estimated 10,000 metric tons of garbage per day, according to the waste management department. The project aims to produce enough electricity to light the waste management site, which is open through the night.

"We aren't reinventing the wheel," said Jijoho-Ogun of Lagos' initiatives, but the city is using this as an opportunity to take advantage of its high moisture waste. About 45 per cent of the garbage generated in the city is organic material.

It might seem like a small solution to a huge problem, but the project is an important step in a plan that has come a long way in the years since Ola Oresanya was appointed chief executive of the waste management program.

"It's about changing the city," said Oresanya. "You're converting waste to energy, which is in demand, and over time it might also be viable as job creation." Lagos is only among a handful of African cities looking at waste for energy, he said, unable to give an exact timeline for the estimated production of between 5 and 10 megahertz.

Lagos' waste management system is also building a recycling program and has organized the people already coming to the dump. Nearly 500 scavengers, now called "resource providers" by the city, collect what they can sell.

"We go through the scraps and look for shoes, iron, plastic which we sort and sell it to companies," said Samuel Jatel, 29, who said he provides for his wife and 3-year-old child. On the job for four years, he said he can make a maximum amount of 5,000 naira ($30) per day.

Jude Michael, 41, said he makes about 1,000 naira a day. Nylon is made into refuse bags. Plastic bottles are collected and made into material for furniture.

At the Ikosi market pilot scheme organic waste is turned into electricity. Fruit sellers bring their rotting fruit to the small shed, or it is collected by refuse workers. Then it is mashed up into a paste and fed into a 20 cubic meter red anaerobic digester where it ferments and emits gas to fill a balloon-like tank at the top. The waste is then taken from the bottom and used for gardening compost. The gas, filtered and then piped to a generator, produces a beam of light so that wholesale fruit sellers can unload their produce overnight. The exhaust from the generator is clear.

Pineapples, bananas and watermelons seem to give the greatest outputs, said Tolulope Adeyo, recycling manager for the waste management program. She hopes the Ikosi market can provide its own electricity and that eventually the estimated 500 fruit markets in Lagos will power themselves.

Adeyo said it's also important to work with waste closer to the consumer.

The city has advertised its recycling agenda on radio stations, encouraging residents to collect plastic and bring it in for cash or credits. In December 2013 they focused on households in selected neighbourhoods to sort their garbage, Adeyo said….