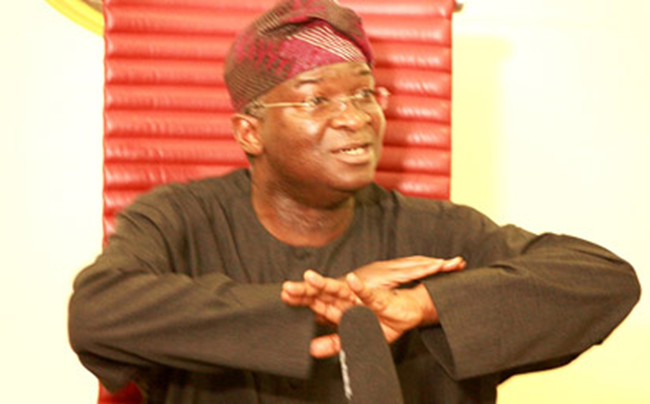 By Jide Ajani

In this session with Lagos State governor, Babatunde Raji Fashola, he explains the style of administration that has been put in place in the state such that successive governments can build and improve on what has been achieved so far.  He also takes a swipe at President Goodluck
Jonathan and his aides who say no administration in the history of Nigeria has done as much as theirs.
You will find him as interesting as ever, with views that are unique both in thought and presentation.
Excerpts:

Lagos has been experiencing some urban renewal. Is this renewal an attempt at taking Lagos back to some forgotten development plan, or a haphazard work in progress?

If you follow our communication on policy statement closely, you will notice that I said from the beginning of my tenure that this was going to be a government of method; that we are going to be methodical in things that we will embark upon. Everything that we have done so far had been based on very rigorous examination of what the problems are, what the choices of solutions are and how to prioritise in order to make them sustainable. One of the first things we did after assumption of office was to conduct a trip round the state; I commissioned a team based on this to go and ask the citizens and residents around the state to specifically tell the governor, 'what do you want him to do for you?'

That was the beginning of our local government tour. The results that came showed us that there were six main items: roads, drainages, schools, health, jobs and power. But we wanted to validate that and we went for town hall meetings in every local government. And while those things resonated across, they resonated differently. In some local governments, they wanted  roads first. In others, they preferred schools. In some places, their drainages were their main concern. This formed the basis of our first full year budget in office (2008 budget).  And we have kept faith with this approach.
Indeed, from each tour after we came back, it was to give instructions to each ministry or department. When we came back from those tours, we went straight into an executive meeting everyday giving out assignments as required; and we have kept track.

Regional plan
The second point was that of regional plan. I think the last regional plan for the state was done around 1991 or so. So, we decided to plan the state into eight towns. We developed a new regional plan. These towns are Badagry, Ikorodu, Epe, Lagos Mainland (which covers part of Oshodi, all through to Orile, to National Theater and Iddo), Ikoyi, Victoria Island, Lekki and Ikeja; and to link them up by transport infrastructures.
Again, we did an audit of the available water supply. And we saw that we had about roughly 45 or 48 percent water supply and we developed a plan; a short, medium and long term plan to provide water for the growing population that we were anticipating. The short-term plan was to do two million gallons per day, with facilities in 15 locations. I have commissioned about nine of them.  And along with that short term plan was to get the Iju water works to run at  full  capacity because it was running at  about 35 percent  capacity because of power outages. This led to the first IGP for Iju water works; the Akute IGP now runs at about 90 percent. But it doesn't solve the problem. Some of these facilities have aged; Iju was built around 1900. That's why you will see we are laying new pipes through Eko Bridge.