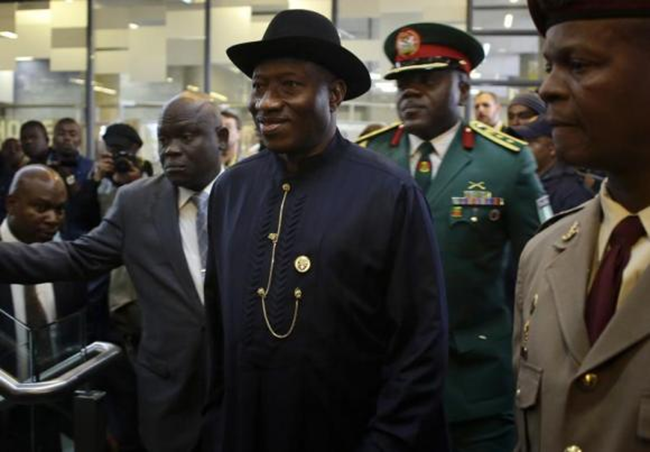 (Reuters) - One of Nigerian President Goodluck Jonathan's predecessors and mentors has turned against him, penning a scathing denunciation that could deepen division in the ruling party and potentially embolden Jonathan's rivals.

Former president Olusegun Obasanjo, once Jonathan's principle sponsor, wrote in a letter that it would be "fatally morally flawed" for Jonathan to seek re-election in 2015.

Obasanjo, 76, lays down a damning appraisal of 56-year-old Jonathan's leadership, chiding him on his performance on everything from corruption and insecurity to the economy, in the 18-page letter entitled "before it is too late". The letter was seen by Reuters on Thursday.

The former president even likens the current situation to the tenure of General Sani Abacha, whose five years of military rule in the 1990s were marred by human rights abuses and the looting of funds from Africa's biggest oil producer.

"Nigeria is bleeding and the hemorrhage must be stopped," Obasanjo says.

Open criticism from such a high-profile figure in the ruling party may encourage politicians to defect to a newly-united opposition and give greater confidence to potential rivals considering standing against Jonathan for the party leadership.

The presidency responded by saying the comments by Obasanjo were "reckless, baseless, unjustifiable and indecorous", adding that the letter had been deliberately leaked to the media.

The potency of Obasanjo's criticisms and the public nature of the spat add to a weight of embarrassment for Jonathan, coming days after another leaked letter, this time from the central bank, opened an investigation into missing oil funds.

Nigeria's Senate on Wednesday launched a probe into the letter to Jonathan from the central bank, which said the state-oil company NNPC failed to account for $50 billion of revenue from 18-months of oil sales.

Africa's second-biggest economy and top oil exporter is growing as an investment destination but reports of violence, corruption and political instability often tarnish its image.

General Obasanjo, who was president for eight years until 2007, was a strong influence in bringing Jonathan to power but their relationship has since soured.

The former president says Jonathan promised prior to his election victory in 2011 that he wouldn't run again. Jonathan has previously denied making such promises and he has not said whether he will contest the 2015 elections.

RELIGION

Jonathan's assumed ambition to seek re-election is a thorny issue in religiously-mixed Nigeria, where alternating the presidency between the majority Christian south and the mostly Muslim north has been considered an unwritten rule.

Jonathan, a southern Christian, was vice president and came to power when President Umaru Yar'Adua, a northern Muslim, died in May 2010, three years into his first term.

Jonathan's campaign in 2011 angered many northerners who felt it was still their turn to rule for what would have been Yar'Adua's second term. If Jonathan runs again in 2015 it could create further animosity.

"It would be fatally morally flawed" to run in 2015, Obasanjo, a Yoruba Christian from the southwest, said in his letter. He advised Jonathan not to listen to "sycophantic" advisers and to heed the warning signs in north Africa.

"When the consequences come, those who have wrongly advised you will not be there to help carry the can. Egypt must teach some lesson," he wrote, referring to a revolution and upheaval there.

Obasanjo's own reputation was tarnished towards the end of his presidency by attempts to make changes to the constitution, which would have allowed him to run for a third term.

Jonathan has brushed off several corruption scandals and personal attacks in the past but opposition is mounting.

Last month, several powerful governors defected from Jonathan and Obasanjo's ruling People's Democratic Party and joined the All Progressives Congress, a coalition opposition formed in February which now poses the biggest threat to the PDP since the end of military rule in 1999.

The PDP still controls a strong majority in the national assembly and has the biggest power base and financial muscle.

Jonathan is also struggling to quell an insurgency from Islamist sect Boko Haram in the north and rampant oil theft in his home Niger Delta region, which is straining the economy.