My dad allowed us to choose between Christianity, Islam - Fashola •Atiku, govs, Oyinlola, Arisekola-Alao, PDP mourn Pa Fashola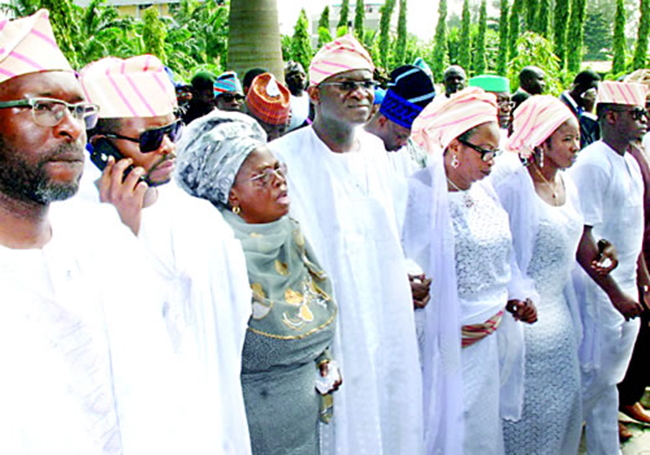 MOMENTS after his late father, Pa Ademola Fashola was lowered into the grave on Tuesday, Lagos State governor went down memory lane.

Speaking with reporters about what he would miss most about the deceased, the governor noted that non-discriminatory disposition to life which made his father, a staunch Muslim, allow his children to make their choice on religious convictions, would not be easily forgotten.

He added that his late father would be missed because " he was our best friend. He allowed us to be what we want to be. That is why we have among us his children, muslims and christians. He didn't discriminate. No matter the condition, he always got on. He was a loving father, and humble in attitude," he said.

The governor, however, gave glory to God that his father lived a fulfilled life, even as he noted that it was also to the glory of God that his father died during the holy month of Ramadan and also in the night of the glorious month (Lailat-Ul-Qaudir).

"He died on the night we had Lailat-Ul-Qaudir in Saudi," he said.

Dignitaries across the land also joined Governor Fashola in paying glowing tributes to the departed soul.

Governor Fashola and other members of the family were all clad in white dresses made of lace material. He wore dark glasses and remained calm as the remains of his father were being laid to rest at the beautifully designed and expansive tomb said to belong to the family.

The dignitaries, who were part of the occasion, include the Governor of Ogun State, Senator Ibikunle Amosun; his Ekiti State counterpart, Dr Kayode Fayemi; former Head of Interim National Government, Chief Ernest Shonekan and Lagos State House of Assembly Speaker, Hon Adeyemi Ikuforij. He was accompanied by all members of the parliament.

Other eminent personalities include Alhaji Aliko Dangote, Senator Olabiyi Durojaiye, Chief Femi Adeniyi Williams, Chief Samuel Jegede, former Governor Donald Duke, Senator Babafemi Ojudu, Justice Onalaja; Justice Oguntade, the retired Justice of the Supreme Court and Revd (Dr) Vallis Kolawole.

Others include Very Rev S. T. V. Adegbite, Chief Henry Ajomale, the Action Congress of Nigeria (ACN) chairman in Lagos State; Hon Adewale Ayodele, Engr Demola Akinyemi, Chief Sunday Olaitan, Chief Samuel Fadairo, Chief Yaya Ogunjobi, Oba Adedayo Ishola Shyllon, Lemo 1 of Agbado; among others including commissioners and government officials.

The remains were later interred following prayers offered by Muslim clerics.

Meanwhile, tributes have continued to pour in for the late Pa Fashola, as former Head of Interim National Government, Chief Ernest Shonekan described him simply as a nice man, who had played his role well while he was alive, even as he wished the departed soul eternal rest.

Lagos House of Assembly Speaker, Ikuforiji, who also spoke on the deceased, recalled that the late Pa Fashola lived a life that was worth celebrating having lived a fulfilled life.

Ikuforiji urged Governor Fashola and other members of the family to be consoled with the fact that their father died during the Holy month of Ramadan and on the night of majesty, which is refered to as Lailat-Ul-Qaudri, saying that meant that his supplications had been accepted and all his sins forgiven by God.

High Chief Disu, a cousin of the late Pa Fashola, who spoke with the Nigerian Tribune, stated that he had since accepted the occurrence as the will of God.

According to him, the late Pa Fashola touched many lives, just as he prayed God to give his soul eternal rest.

"He lived his life and believed in God so people should try and emulate him," he said.

In her own response, a member of the House of Representatives, Hon Abike Dabiri-Erewa, described the late Pa Fashola as a great dad, who put his children on the path of hard work, faith in God, and sincerity of purpose.

The lawmaker, who said that the deceased lived and died a fulfilled man, described him as a father figure to many people irrespective of their background.

"He always had a ready smile and words of wisdom. No doubt he died a fulfilled man and may his soul rest in perfect peace," she prayed.