Facing hardship, families in Benin are sending their children to work in sometimes brutal conditions in neighbouring Nigeria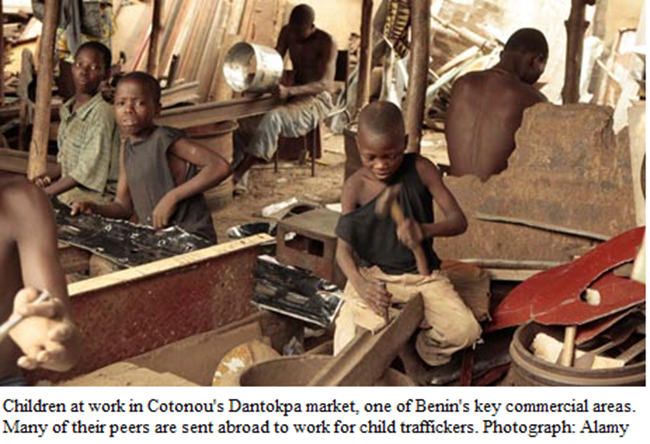 The abuse Timothy Goudjana suffered as a teenage labourer in Nigeria still haunts him. But decades later, he sent two of his own children, at a much younger age, to a similar fate.

Human trafficking is the world's fastest rising organised crime. Each year, 4 million African children – equivalent to Liberia's entire population – are traded for labour before their 15th birthday.

Most come from villages like Zakpota, in central Benin, where hundreds of parents – pushed to the wall by destitution – send their children to neighbouring Nigeria. The working child, it is hoped, will bring in money, and be one less mouth to feed.

"It's a last recourse, a survival strategy – parents see it as a way for children to contribute to the family," says Jean Lokenga, Unicef's chief child protection specialist in Benin. With almost half the country's population plunging below the poverty line in the past decade, parents who ranged west Africa for work in their 20s are sending sons and daughters away at half that age.

In Zakpota, the flames of hardship are fanned by a brutal history. "Since ancient times people trafficking has been well organised here," Lokenga explains, referring to the vast pre-colonial Dahomey kingdom that grew rich on trafficking captives to European slave buyers.

 

These days, a trusted member of the community known as a "patron" – French for master – will typically place a child abroad in Nigeria or Gabon for two years after handing over about $200 in cash. Back home, their scanty wages buy sacks of rice and fertiliser, and pay off crippling debts. Saved carefully, the proceeds buy luxuries such as a bicycle or tin roof. Some children earn enough to return as patrons themselves.

As his family scraped by, Goudjana buried the memories of three years in a Nigerian quarry breaking stones with a crude hammer, eating thin cassava porridge once a day. "Then one year there was nothing to eat, no way to survive," he says, sitting in the shade of his mud hut.