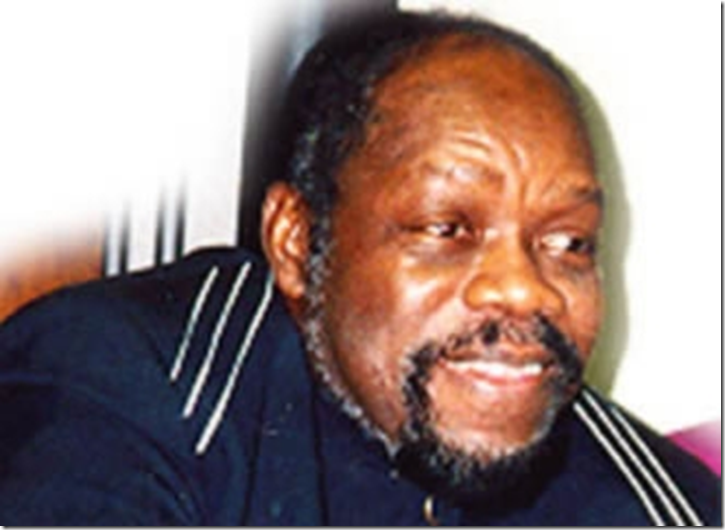 Ojukwu, who was the National Leader of the All Progressives Grand Alliance, died on Saturday morning at the Hospital between 1am and 2am local time.

Prior to that trip, he was on admission at the Intensive Care Unit of the University of Nigeria Teaching Hospital, Enugu following a cerebra-vascular accident otherwise called stroke.

There had been rumours of his death since then but they were always dispelled by the Anambra State Government and his family.

The secretive nature with which his family treated his health condition fuelled regular speculations about his state.

He is survived by his wife, Bianca; two children from the former beauty queen; and many other children from previous marriages.

At the celebration of his 78th birthday at his Forest Crescent, Enugu GRA residence, a number of personalities gathered to celebrate the former Biafran warlord.

His wife had told the gathering that Ojukwu was recovering from his ailment and was positive he would return home soon.

According to wikipedia, "Chukwuemeka Odumegwu-Ojukwu was born on November 4, 1933 at Zungeru in northern Nigeria to Sir Louis Phillippe Odumegwu Ojukwu, a businessman from Nnewi in south-eastern Nigeria. Sir Louis was in the transport business; he took advantage of the business boom during the Second World War to become one of the richest men in Nigeria.

"Emeka began his educational career in Lagos, southwestern Nigeria. In 1944, Emeka was briefly imprisoned for assaulting a white British colonial teacher who was humiliating a black woman at King's College in Lagos, an event which generated widespread coverage in local newspapers. At 13, his father sent him overseas to study in Britain, first at Epsom College, in Surrey and later earned a Masters degree in history at Lincoln College, Oxford University He returned to colonial Nigeria in 1956.

He joined the civil service in Eastern Nigeria as an Administrative Officer at Udi, in present-day Enugu State. In 1957, within months of working with the colonial civil service, he left and joined the military as one of the first and few university graduates to join the army: O. Olutoye (1956); C. Odumegwu-Ojukwu (1957), E. A. Ifeajuna and C. O. Rotimi (1960), and A. Ademoyega (1962).

"Ojukwu's background and education guaranteed his promotion to higher ranks. At that time, the Nigerian Military Forces had 250 officers and only 15 were Nigerians. There were 6,400 other ranks, of which 336 were British. It is not surprising that at N/29 the army found in valuable training resources in the young man. [W.U. Bassey was N/1, while JTU Aguiyi-Ironsi was N/2; the first Nigerian to be commissioned as an officer, Lieutenant L. V. Ugboma, left in 1948].

"After serving in the United Nations' peacekeeping force in the Congo, under Major General Johnson Thomas Aguiyi-Ironsi, Ojuwkwu was promoted to Lieutenant-Colonel in 1964 and posted to Kano, where he was in charge of the 5th Battalion of the Nigerian Army.

"Lt.-Col. Ojukwu was in Kano, northern Nigeria, when Major Patrick Chukwuma Kaduna Nzeogwu on 15 January 1966 executed and announced the bloody military coup in Kaduna, also in northern Nigeria. It is to his credit that the coup lost much steam in the north, where it had succeeded. Lt. Col. Odumegwu-Ojukwu supported the forces loyal to the Supreme Commander of the Nigerian Armed Forces, Major-General Aguiyi-Ironisi. Major Nzeogwu was in control of Kaduna, but the coup had flopped in other parts of the country. He surrendered.

"General Aguiyi-Ironsi took over the leadership of the country and thus became the first military head of state. On Monday, 17 January 1966, he appointed military governors for the four regions. Lt. Col. Odumegwu-Ojukwu was appointed Military Governor of Eastern Region. Others were: Lt.-Cols Hassan Usman Katsina (North), Francis Adekunle Fajuyi (West), and David Akpode Ejoor (Mid West). These men formed the Supreme Military Council with Brigadier B.A.O Ogundipe, Chief of Staff, Supreme Headquarters, Lt. Col. Yakubu Gowon, Chief of Staff Army HQ, Commodore J. E. A. Wey, Head of Nigerian Navy, Lt. Col. George T. Kurubo, Head of Air Force.

"By 29 May 1966, things quickly fell apart: There was a planned Pogrom in northern Nigeria during which Nigerians of South-Eastern Nigeria origin were targeted and killed. This presented problems for the young military governor, Colonel Odumegwu-Ojukwu. He did everything in his power to prevent reprisals and even encouraged people to return, as assurances for their safety had been given by his supposed colleagues up north and out west.

 

 

"On 29 July 1966, a group of officers of Northern origin, notably Majors Murtala Ramat Rufai Muhammed, Theophilus Yakubu Danjuma, and Martin Adamu, led the majority Northern soldiers in a mutiny that was later tagged "counter-coup." The Supreme Commander General Aguiyi-Ironsi and his host Colonel Fajuyi were abducted and killed in Ibadan.

"First, he insisted that the military hierarchy must be preserved; in which case, Brigadier Ogundipe should take over leadership, not Colonel Gowon. But Ogundipe no longer had the stomach to deal with the army; he was easily convinced to step aside and was posted to the Nigerian High Commission in London.

"Leader of Biafra "General Ojukwu"In January 1967, the Nigerian military leadership went to Aburi, Ghana for a peace conference hosted by General Joseph Ankrah. The implementation of the agreements reached at Aburi fell apart upon the leaderships return to Nigeria and on 30 May 1967, Colonel Odumegwu-Ojukwu declared Eastern Nigeria a sovereign state to be known as BIAFRA:

"Having mandated me to proclaim on your behalf, and in your name, that Eastern Nigeria be a sovereign independent Republic, now, therefore I, Lieutenant Colonel Chukwuemeka Odumegwu-Ojukwu, Military Governor of Eastern Nigeria, by virtue of the authority, and pursuant to the principles recited above, do hereby solemnly proclaim that the territory and region known as and called Eastern Nigeria together with her continental shelf and territorial waters, shall, henceforth, be an independent sovereign state of the name and title of The Republic of Biafra."

"On 6 July 1967, Gowon declared war and attacked Biafra. For 30 months, the war raged on. Now General Odumegwu-Ojukwu knew that the odds against the new republic was overwhelming.

"Most European states recognised the illegitimacy of the Nigerian military rule and banned all future supplies of arms, but the UK government substantially increased its supplies, even sending British Army and Royal Air Force advisors.

"After three years of non-stop fighting and starvation, a hole did appear in the Biafran front lines and this was exploited by the Nigerian military. As it became obvious that all was lost, Ojukwu was convinced to leave the country to avoid his certain assassination. On 9 January 1970, General Odumegwu-Ojukwu handed over power to his second in command, Chief of General Staff Major-General Philip Effiong, and left for Côte d'Ivoire, where President Felix Houphöet-Biogny—who had recognized Biafra on 14 May 1968—granted him political asylum.

Copyright, Blaise APLOGAN, 2010,© Bienvenu sur Babilown
Toute republication de cet article doit en mentionner et l'origine et l'auteur sous peine d'infraction