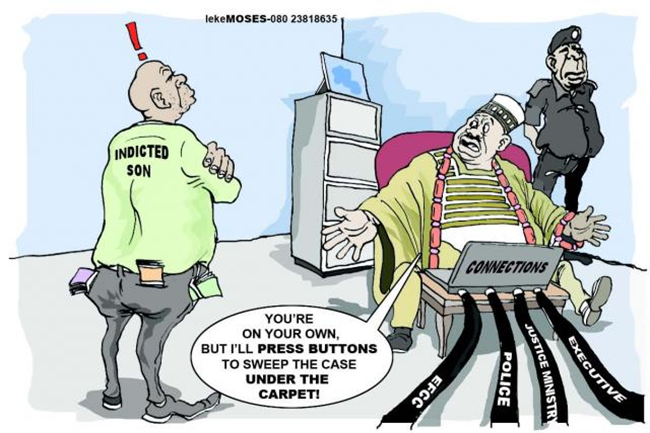 GLOBAL

emocracy does not begin and end with the right to cast votes, it is not even sufficient to say that the votes were properly counted. With Democracy comes the expectation of rule of law, due process, openness, and the rights of the citizens to know. While we debate the extent to which our leaders have allowed the rule of law and due process to flourish, it is abundantly clear to me that our politicians of this present era have consistently neglected or rather taken for granted one of the essential elements of Democracy?the rights of the citizens to be informed in everything including the health and wellbeing of their elected officials and in the case of the presidency, including that of their spouse.

Ever since Stella Obasanjo (Late Nigeria's first lady) died suddenly under the knife of what turned out to be a quack plastic surgeon in Spain, things have simply spiralled from bad to worse. Her trip to Spain was not the problem but as it turned out, Nigerians were not informed that she was travelling to Spain, let alone for the reasons of tummy tuck. The story at the time was that even her husband was not informed of that clandestine trip to Spain but I sincerely hold my reservations on that.

Then came Yar'adua in 2007 when he was running for president: It was already common knowledge that Governor Yar'adua was suffering from kidney ailment, and had been on dialysis for some years, perhaps between 5 and 8 years as at 2007. It was also common knowledge that the average life expectancy for one on dialysis is roughly 10 years. Yet when Yar'adua crumbled under the stress of heavy presidential campaign schedule and had to be flown out to a German hospital, Obasanjo boldly told all Nigerians that his hand-picked presidential candidate was only suffering from catarrh. Such fallacy only fuelled rumours that Yar'adua had died especially

after nothing was heard from him for some time. Surely, Obasanjo followed up with a repulsive charade in calling Yar'adua and putting him on speaker on live television just to prove to Nigerians that the man was still alive. The sad part of this story was that Yar'adua would die of the same ailment 3 years later without Nigerians ever being told what he suffered from, even as a sitting president.

Yar'adua's family and the entire presidency did not fare any better than Obasanjo. When Yar'adua's health took a nose dive and he was flown to Saudi Arabia his family and their small cabal in the presidency shut Nigerians out completely. For many months nobody in Nigeria outside his immediate family knew his condition. Those who ventured out to visit him in the Saudi hospital were all shut out, including cabinet members and legislatures until his comatose body was finally smuggled back into Abuja in the middle of the night. I thought that the secrecy surrounding Yar'adua's illness, hospitalization, and eventual death would have thought us a lesson in this country. Sadly, recurring events since Yar'adua's death suggest otherwise.