On May 28, 2011 · In Just Human
SIMON EBEGBULEM, Benin city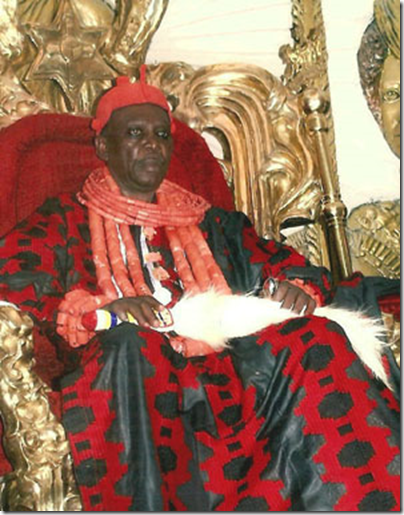 Aftermath of attack on Gbaramatu: A King without Palace
Two years ago, the Joint Task Force, JTF in the Niger Delta invaded the oil rich Gbaramatu Kingdom of Warri South West Local Government Council of Delta state, hometown of repentant militant leader, High Chief Government Ekpemupolo, a.k.a Tompolo, after a fracas between members of JTF and some of the then militants in the area, leaving a scare that lives in the minds of the inhabitants.
The entire community was razed down including the palace of the King, HRM Ogeh-Gbaraun 111, Aketekpe, Agadagba of Gbaramatu Kingdom.
The Gbaramatu invasion by the JTF was similar to the Operation Desert Storm of 1999, when the American forces launched an attack against Iraq for invading Kuwait. There were aerial bombardments of the Kingdom and the effects were massive. Two years after the incident, it was a case of a King without a palace while other inhabitants of the community still suffer the devastation.
However, a frontline Niger Delta activist and former Secretary General of the Ijaw Youth Council (IYC), Comrade Paul Bebenimibo, narrated their ordeal to Saturday Vanguard in Benin City and appealed to the Federal Government to come to their aid by rebuilding the Kingdom including the palace of their King.
Comrade Bebenimibo said, "Since after the fracas with some youths in the kingdom, people are still passing through hell due to the destruction in the land. Imagine Okerenkoko community that was destroyed completely, there was no single building standing after the invasion. The Governor of Delta state promised to rebuild the community. But as we are talking now, nothing has been done to rebuild the community."
He painted a sordid picture of how the people are living in a make shift structures.   "They live in a make shift structures in the riverine communities and each time there is storm, it will destroy the structures because they are not solid enough and that is what we have been passing through in the past two years, " he said.
"Our people were left with nothing, their source of livelihood were destroyed and nothing has been done to cushion the effects of the damage done to us. It is sad that this is happening to us because Gbaramatu Kingdom is contributing immensely to the unity and development of this country through its oil revenue."
On how the King has been operating without a palace, Comrade Bebenimibo said: "He has been staying in a two bedroom apartment in the Kingdom. How can a King be without a palace after his magnificent multi billion naira palace that was built by the toil of the community, was destroyed by the JTF. What JTF did was a sacrilege; can they destroy the house of an Emir in the North like that?

Copyright, Blaise APLOGAN, 2010,© Bienvenu sur Babilown
Toute republication de cet article doit en mentionner et l'origine et l'auteur sous peine d'infraction